Miller & Co lists Gift Food and Drink brands following Huddles
Miller & Co attended Product Guru's Gift Food & Drink Huddle event, to discover new brands and products for their needs. Following the experience, the company has listed two brands from the event, with ongoing conversations for listing further brands.
Success Story Highlights
Buyer / Retailer: Miller & Co
Product Guru event attended:

Gift Food & Drink Huddle, hosted 30

th

of March, 2022, in Birmingham.

Brands listed: Wilkes Industries and Babington Blends, with ongoing conversations with other brands for further listings.



What they told us about their experience at Huddles
"The Product Guru Food and Drink Huddle was amazing! It was so exciting to meet so many people in one day and learn about them, their businesses and offerings. This event is a genius idea, enabling like-minded professionals within the same industry to be put together in a room for the day.
The speed dating style sessions worked fabulously and ensured everyone stayed on track. We have made some really great connections at this event, we have already started working with the likes of Wilkes Industries and Babington Blends, but we also now have a ready made catalogue of suppliers which will be really useful towards Christmas, which is our busiest time."
Carrie Smith - Head of Operations at Miller & Co
How Huddles events helped Miller & Co to find the right products for their needs
Miller & Co is an online retailer specialised in gift boxes, based in the UK and shipping gifts worldwide. The team is always on the look for innovative, high-quality products to add to their exciting gifting offering. So, when Product Guru invited Miller & Co to attend our Huddle Gift Food & Drink Event in March, the company saw an opportunity to discover new and emerging brands that were fit for their needs.
Huddles events offer brands the opportunity to meet face to face with a multitude of buyers in speed-dating style, integrating the technology from Product Guru's platform for buyers to access all product details, log feedback, and connect with brands for follow-up and next-steps.
Carrie Smith, Head of Operations at Miller & Co, joined us at the event. She was able to meet with brands' owners live at the event and try their products, and also discover other brands via the 4D video and product sampling packages.
Following the experience at Huddles, Miller & Co has listed brands they met at the event: Wilkes Industries Ltd, which flowers are available on Miller & Co's website, and Babingtons Blends with their fine, hand-blended teas.
Furthermore, the team at Miller & Co shared that they are excited to work also with the brand Beyond Wines, to list their Liquid Diamond wine, and they are continuing conversations with Fellow Creatures for listing their vegan oat-based chocolate.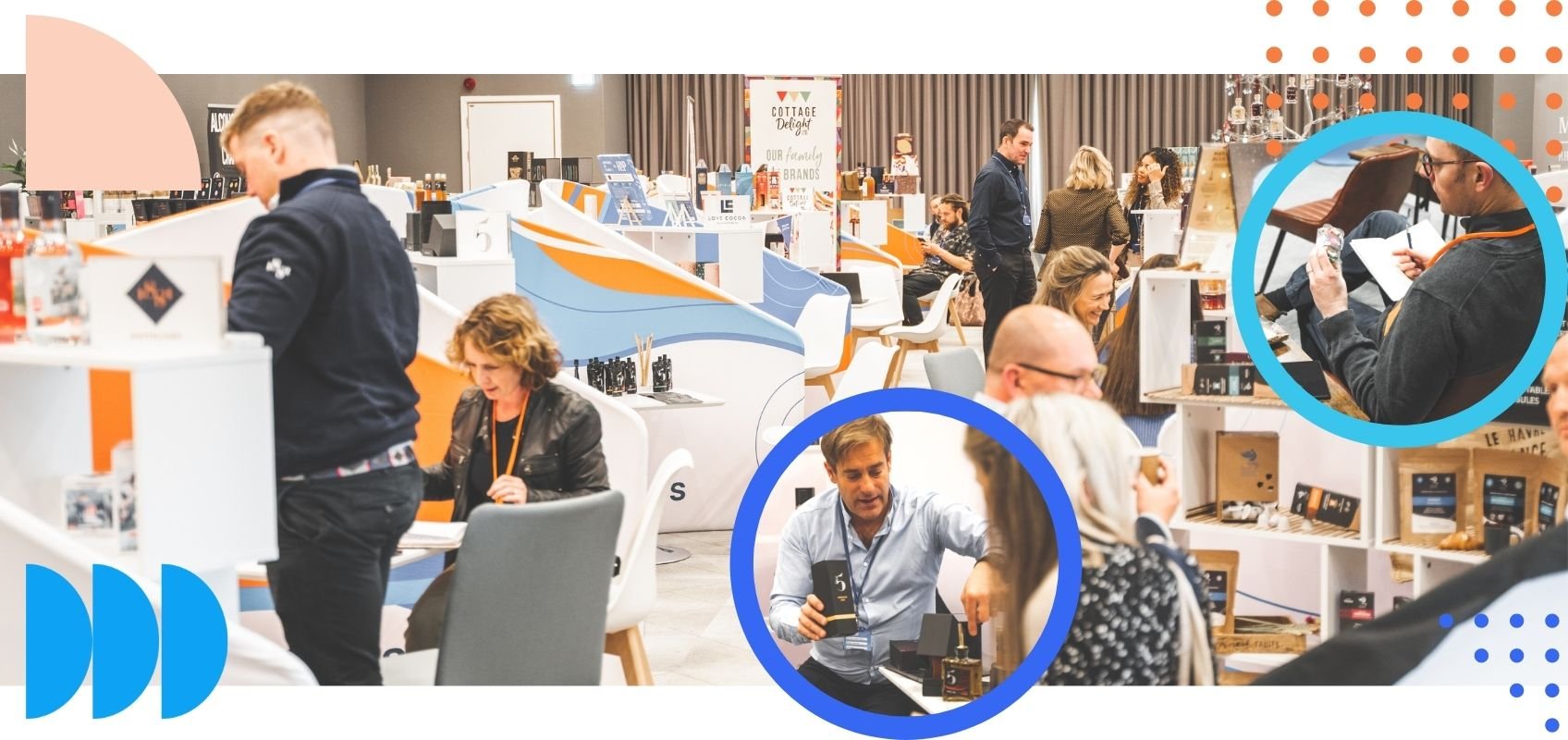 We also asked Miller & Co what they look for in brands, and whether they have any advice for brands pitching to them. Here's what Carrie told us:
"We look for like-minded people who are passionate about their offering. They must really know about their brand, its USP and its vision. We pride ourselves on the customer service we give our clients and therefore we expect the same from our suppliers too."
Carrie Smith - Head of Operations at Miller & Co

About the company
Miller & Co has an exciting range of pre-packed curated gift boxes, personalised gift boxes for friends and family, and customised corporate gift boxes, which customers can buy online on their website, or via Amazon and Etsy.
Based in a warehouse close to Gloucester Docks in the UK, Miller & Co ships their gifts worldwide.
Miller & Co has years of experience in the gifting industry and are fully equipped to handle from simple to complex requests, from arranging individual bespoke vegan-friendly hamper, to catering for an entire conference with custom design stationery, snacks and alcoholic drinks. They have worked with many clients, with notable names including GOOGLE, Warner Brothers, Accenture, Lloyds Banking Group, Invesco Ltd, Nationwide Building Society, Martin Moore Kitchens, Ikea, Barclays Bank and many more.
Product Guru helps brands and buyers connect.
The content on our site is provided for general information only. Although we make reasonable efforts to update the information on our site, we make no representations, warranties or guarantees, whether express or implied, that the content on our site is accurate, complete or up to date. Please read our full Terms and Conditions.