Pirate's Grog Rum secures John Lewis and Funky Hampers Listings after joining Gift Food & Drink Huddle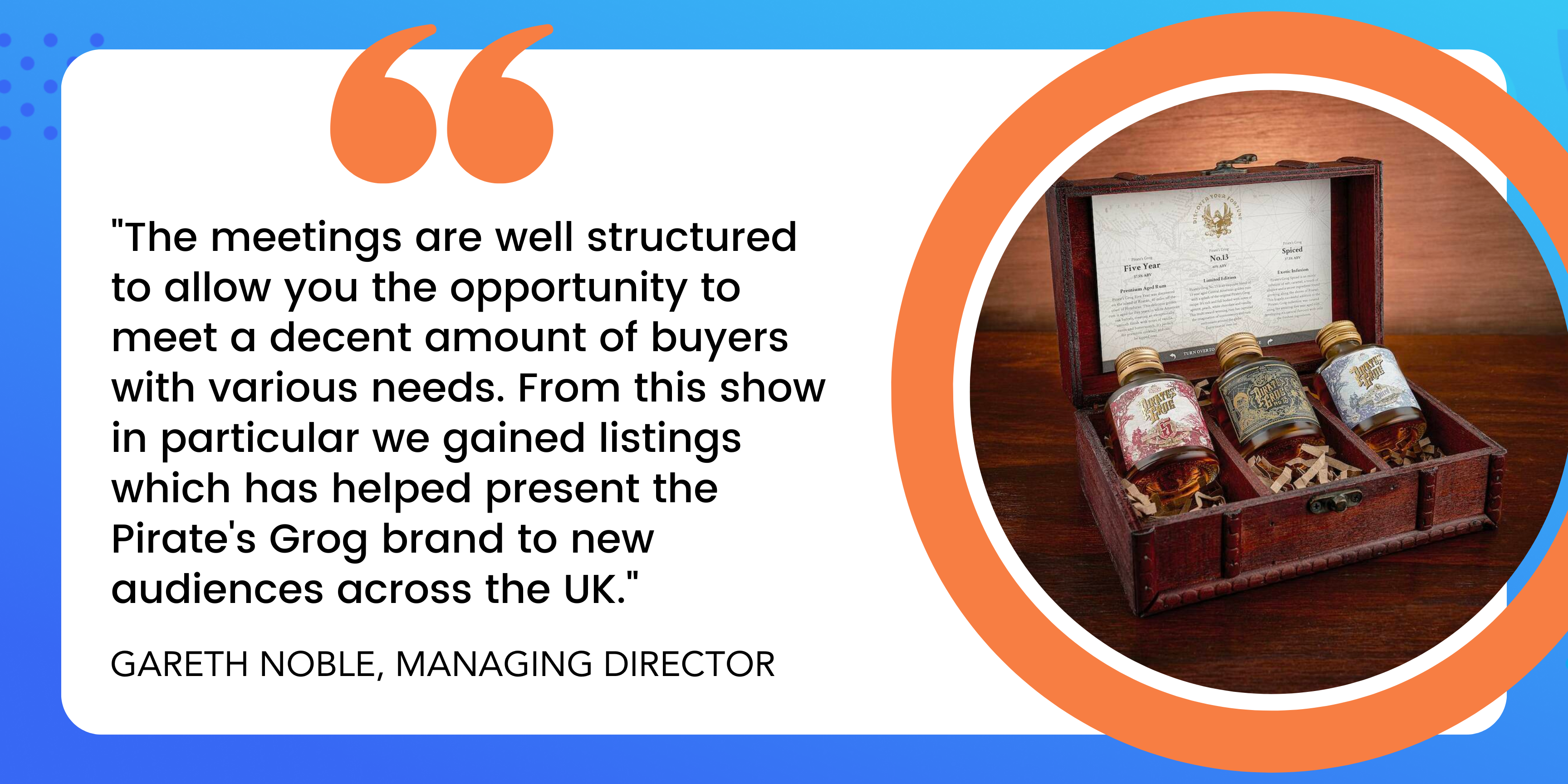 Pirate's Grog Rum won dream-come-true listings after John Lewis and Funky Hampers reached out following the 2022 Gift Food & Drink Huddle.
"On the day of the event the meetings are well structured to allow you the opportunity to meet a decent amount of buyers with various needs. From this show in particular we gained listings which have helped present the Pirate's Grog brand to new audiences across the UK."
Gareth Noble, Managing Director at Pirate's Grog
The brand's experience with Product Guru
After joining us at Huddles, John Lewis and Funky Hampers reached out to Pirate's Grog. The team was delighted with their Huddles experience, saying: "It was very pleasant to exhibit at the Huddles event in Birmingham with Product Guru. The social event hosted the night before was a great opportunity to share experiences with other entrepreneurs and gain some helpful insights. "

Huddles events offer brands the opportunity to meet buyers at leading UK retailers through our events. At each Huddle, you can have buyers try out your products in person! Huddles rethinks the trade show format to provide brands direct, guaranteed meetings with buyers from major industry players.
About the brand
Pirate's Grog is a drink for everyone with an adventurous spirit who dreams of something new and exciting just over the horizon.
Pirate's Grog is a boutique rum company that originates from the island of Roatán, situated 40 miles off the coast of Honduras. The name Pirate's Grog is derived from days of old when pirates and buccaneers used the island as a resting point between voyages, as it provided a safe haven for trade in between plundering merchant vessels and sheltering from stormy weather.
Learn more about the brand on their website here.
Product Guru helps you reach buyers.
The content on our site is provided for general information only. Although we make reasonable efforts to update the information on our site, we make no representations, warranties or guarantees, whether express or implied, that the content on our site is accurate, complete or up to date. Please read our full Terms and Conditions.